Tripawds is a user-supported community. Thank you for your support!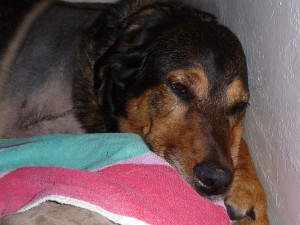 Photo: Lylee sez "I want to feel my happy self again soon"
Our sweet girlie is not liking all this painful recovery stuff. She has pretty much just been sleeping and alternating a few times a day between her beds in the bedroom, under the dining room table and under the desk in the office.
She has been eating her meals, and going to the toilet regularly (1 & 2). Which is great. Her vitals are good. Her respiration is still increased. I now know this is a combination of pain and the pain meds. I gave her a small amount (6mg orally) of acepromazine last night to relax as her anxiety level was a bit high. This really helped her and she got a really good nights sleep and seemed much happier in the morning.
Then thru the day I think the pain and the adjusting of her body from one side to the other in her beds started really wearing on her. You can see her not want to lie down all the way on her hurtie side.  Pain kinda just pulls you down eventually. She is still on carprofen and tramadol and I can increase the tramadol but it's a balance as this can increase the panting.
We postponed the visit to UC Davis this week to next week. Still researching all the different ways to approach her health adventure to rid her body of all cancer cells and to excellent health ! If it can be done we will do it! Cancer is a sneaky enemy but we will do our best.
Lylee says "Thank you for all the love and healing prayers and thoughts, they feel really good. Lick, lick, a little wag and woofs to come when I'm feeling better" xoxoxo