Tripawds is a user-supported community. Thank you for your support!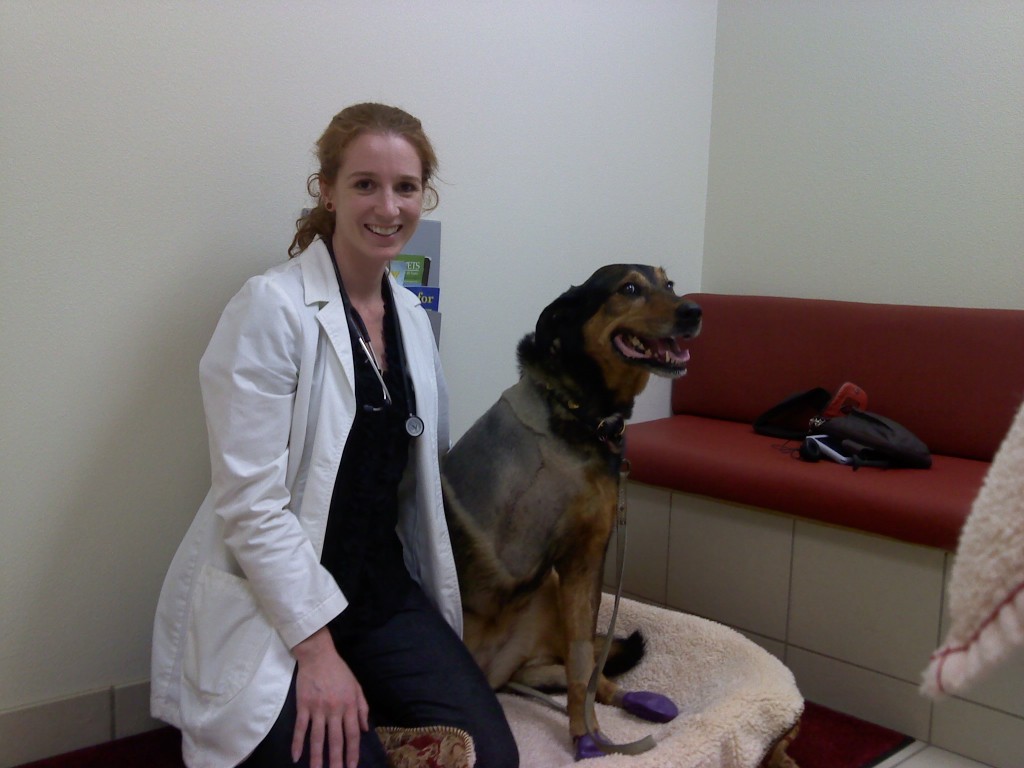 Photo: Our Lylee with her very sweet oncologist, Dr Holly Burr
Lylee Girl says she has had enough Dr visits to last 10 life times. She is such a brave girlie! And super sweet to everyone she interacts with. People always comment what a good girl she is.
Yesterday we went in for her abdominal ultrasound, chest x rays, blood workup and urinalysis. This is all done before starting chemo to check things are looking good and no masses or weird stuff going on. She got to wear her new special doggie rubber balloons (Pawz) on her feet to help with her traction on the slippery floors. "Whatever my mother wants!" she sez! Such a good sport! We also took her bed (no. 5) so she always had something soft to lie on.
I'm happy to say that the ultrasound only showed normal signs of aging for an older doggie. "Unremarkable" as the medical community say – that's when you like to be "unremarkable" 😉
The prelim on the chest x ray was good except for a small area but might just be where bone and cartilage meet – so the radiologist will look at it too.
We haven't got the bloodwork or urine back yet. They want to get a baseline again on her liver and kidney function and CBC. And to check her urine is concentrating well as the chemo agent we are using, Carboplatin, is excreted almost unchanged.
So, if the results come back okay the plan is to start her chemotherapy in a few days and do six treatments every three weeks depending on how she responds to it. We will be watching her white blood cell count closely as this can drop very low. And of course how she is generally doing with it (sometimes nausea, etc.) The dose they use for dogs is much lower than they use with humans so the side effects are much less and we are truly concentrating on quality of life rather than quantity of life. We will let Lylee let us know how she wants to proceed – it's all about Lylee Girl and her true well being and comfort.
Lylee really is the Best Girl!
Huggs to all, xoxoxo