Tripawds is a user-supported community. Thank you for your support!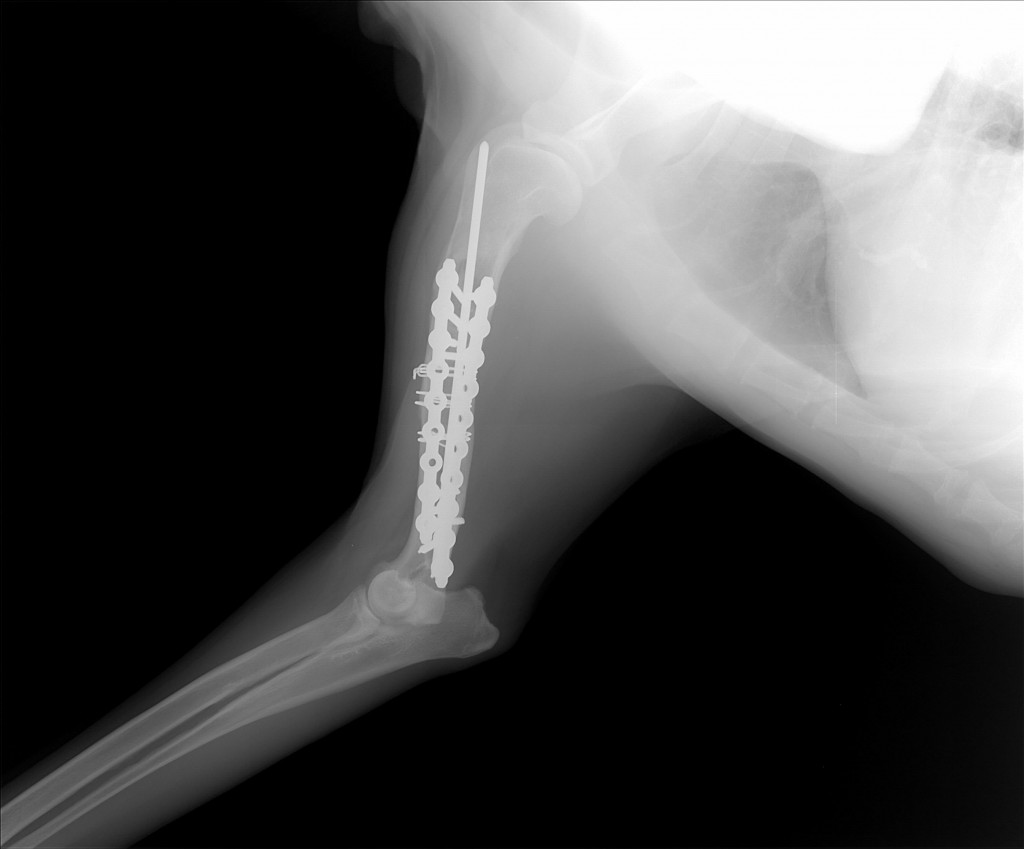 Photo: Lyla's right front leg (x-ray taken 6-4-11)
So, here we are a little over one year later since our Lovely Lylee Girl fractured her right humerus (no jokes please).You can see from the image all the excellent implants that went into mending her bone, it took two trys (that would be TWO surgeries) plus putting her leg finally in a sling so she couldn't use it for  six weeks. (She was a fab tripawd doggie!!)
And it worked and she has had aproximately 9 months of having four functioning legs so she could gamble on the beach and in the sea and do her favourite thing of all time, dismembering seaweed (especially kelp) and saving us from that evil seaweed. (Video to follow soon 🙂
About five weeks ago she seemed more sore on the this bionic leg of hers. So we rested her and used some painkillers to aid her healing. After about 2 weeks she seemed much better.  On a side note I had been on a six day silent retreat the second week into her healing and had a moment  (well, quite a few!) of fear that she had osteosarcoma (bone caner) in her leg and needed to get her to the vet immediately! After calling my husband, Ron, he assured me she was getting better and not to worry).
Unfortunately, when she started to slowly get back into exercise the lameness came back and became increasingly so in the subsequent days. So we went to see or regular vet and they took x rays and he said it all looked okay and her lungs looked very good (I shared my fears of osteosarcoma!). The humerus had healed well and maybe it was just some arthritis in the joints as she is 11 1/2 or there aboutst and well, these things happen as we age 😉
We decided to continue with meds and if she didn't improve then to come back in a week or two to re x-ray.
So poor Lylee continued to be quite sore even with hefty doses of Rimidyl and Tramadol. I felt it wasn't feeling right with s much pain and so 5 days later we went back and had more  x-rays  with the regular vet and set up a consult with a orthopedic surgeon for two days later.
So off we went to the new extra special vet and she didn't actually see anything remarkable with the leg. Maybe the plates were causing some irritation and maybe should come out or maybe an infection. She suggested we come back in a month and re x-ray to see if there were any changes. Good news that she didn't see anything strange as she is the bone expert!
Well, the great thing about animals is that they really can let you know when they are unhappy and 2 days after that appointment Lyla was reaaaaly hurting, plus there was now swelling on the leg. Called the bone lady again but she was doing 2 major surgeries that afternoon so she said come in and they will apply a fentanyl patch (strong narcotic) and come back the next day.
So we did and the next day they did their own x-rays and had the radiologist read them and somehow a meanie lesion was seen on the proximal (upper part) of the humerus above the fracture repair job. This was a possible tumour :(( Yuck, double, triple yuck!
Well, we went ahead and did an aspirate of the fluid in the area of swelling to see if there would be anything abnormal. Much easier that a bone biopsy and far less painful! But that test didn't show anything weird- a negative finding. So now we are faced with doing a bone biopsy tomorrow. It was scheduled today but we postponed to get more info – another chat with the very patient bone doc and willing to answer our many, many questions and concerns. Seems the lesion is not clear enough to positively be a osteosarcoma and the treatment for it is amputation of the leg. So we want to be sure 'cos there is no going back on this one.
Well, it's gone midnight and so bed beckons.
Send Lylee Girl tons of healing love. She is such brilliant girl!
xoxo