Tripawds is a user-supported community. Thank you for your support!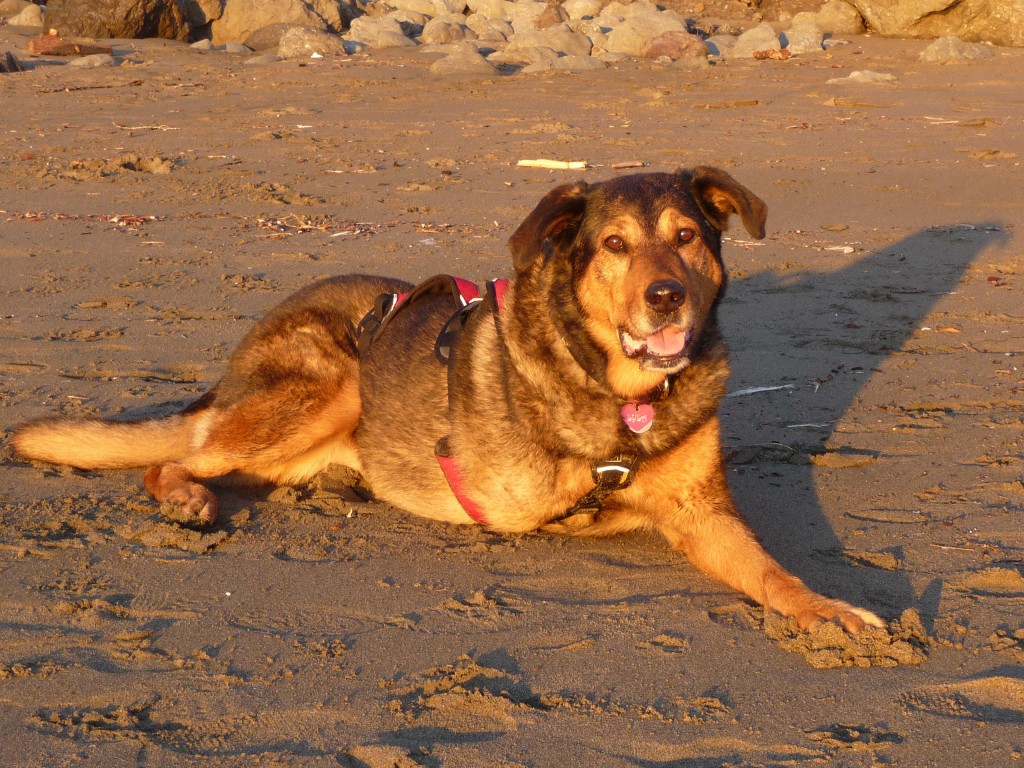 Lylee enjoying a January sunset
Our girl is doing great! She has started her Metronomic Protocol therapy. No side effects seen by us, but she does have to have her CBC done in the next week or so to check her white cell count, etc. plus the oncologist likes to do chest x rays every three months so they will do those too (fingers and paws crossed). We are still researching this low dose chemo – there have been some human peer reviewed studies that have mixed results.
Her appetite has been so good that two separate people have commented on her "healthy" looks i.e. her expanding waistline. Her diet has been mostly grain free and extra yummy (Honest Kitchen Embark; Orijen dry food; Evo canned plus some fresh raw and then too many human fud treats from Grammie ;)) So we have reduced the quantity in her meals and are working on the "Grammie treats".
She still has all her supplements that I listed earlier on in her blog here: https://lyleegirl.tripawds.com/2011/07/06/lylees-new-diet-yum/
We, understandably, had to get really inventive with how to get her to take so many of these pills. Initially she was eating them in her regular meal but then she decided this wasn't her idea of how her food should be messed with, so we then started the hog dog, cheese, canned food, pastrami route to help them down. Alas she didn't like that idea either. What to do? Well with almost 15 pills a day we invented…. Slime Balls!
Basically it's cream cheese mushed together with the pills and then we gently open her mouth and pop them in and say "swallow!" and she does with a gulp. The good part is she is always rewarded with chicken, beef or some really delicious treat. This is her Natural Therapy Protocol. Anything to keep "That Which Shall Not Be Named" in permanent shutdown!
We are looking for a doggie trailer/stroller (I have some xmas $ saved) for her when we go walking everyday. She does tire on the home stretch (like after the last Tripawd Pawty – she needed to rest on the way back) She has such great energy and when she starts flagging I realise hopping is just serious exercise for anyone especially for a 12 year furchild! (I actually think we should all hop when we go on walks together!)   Sending huggs and wags to everyone. Joanne and TWP Lylee