Tripawds is a user-supported community. Thank you for your support!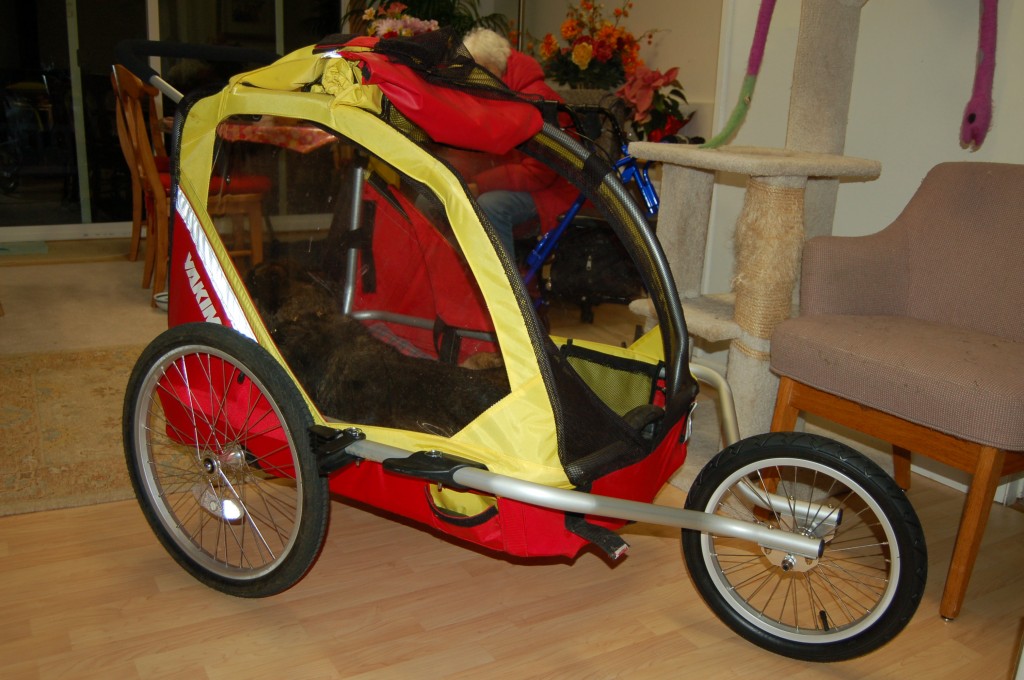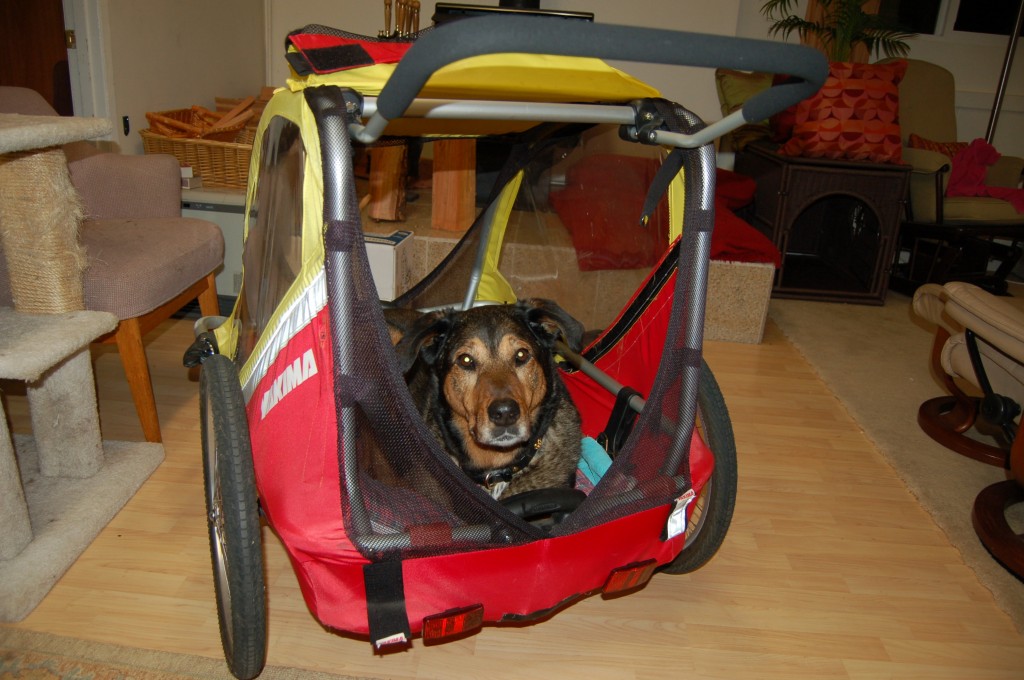 Lylee Sez "Why couldn't I have a pink & purple one"
Success!! Lylee can now travel to where no Tripawd has been (I think) before, or at least she can do the trails the whole distance and in style 😉
So, I did the usual searching on Craigslist and Ebay but nothing suitable was coming up. I found the excellent Solvit trailer/stroller on Amazon at just under $260 – this would have been great but the price tag was stretching it. So after changing the search parameters on Craigslist I lucked out on finding a Yakima bike trailer/jogger, now this model was built for human kiddies but had a weight limit of 100 lbs.
I felt certain I could reinforce the floor adequately and the internal dimensions are actually larger than the Solvit. They were originally asking $155, so, of course, I offered them $125 and we compromised on $130 ~ 🙂 for me. (apparently the lady selling it had turned down an offer of $135 a few days before and then lost the sale).
The other great thing about this trailer is the front wheel is a large diameter so it can handle more easily the dirt roads we walk on. It has a great design for super stability too. The trailer itself has had light useage with a few wear spots but the jogger attachment was still 'new in box'.
We have already had a few trips with it and Lylee can complete the whole walk now! The only problem is that all the new terrain we are crossing has all new scents and smells and Lylee's like "er, excuse me, this set of wheels is fab and all that, but I do really want to check all the latest 'pee-mail' we are passing". So out she hops and it's amazing just how she must check it all out even with her bod saying, "need rest, need rest". So were working on the ratio of chariot time and mail-reading time. Really, for us it's just what ever this Tripawd Warrior Princess wants to make her one very content and happy Princess 🙂
I'll get more footage of our jaunts – we are just so happy she is back to her usual longer excursions, that it's gonna be documented to the max 😉
Hug, wags and wishes for endless sniffing of all the latest "news"
Joanne and TWP Lylee
xoxo