Tripawds is a user-supported community. Thank you for your support!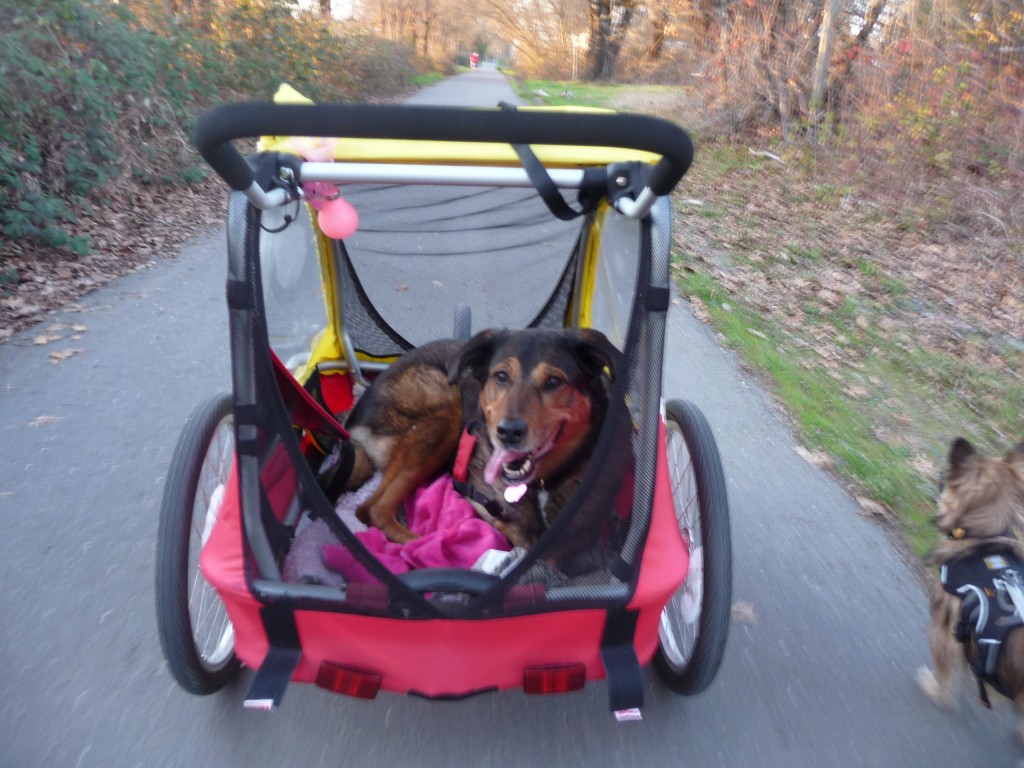 Here is Ms Lylee Girl aka HRH TWP Lylee (Her Royal Highness Tripawd Warrior Princess Lylee) riding in her seriously cool chariot. The trail we walk on is a little over a mile and she gets to walk half and ride half. Whenever she wants a rest she just gets in and when she wants out -well, out she gets. (The pink round thingy just above her is her special TWP bike horn)
It's been amusing to see how she has come to appreciate her chariot. Early on she wasn't too sure of it – it feels a bit wobbly as it's on wheels and, yep – it moves! Well now shes like, let me in, I need a rest. She is quite regal about being in it – observing the world as it goes by 🙂
The trail we walk was converted from a former railroad to a multi-use trail and is very cool as it goes along vineyards, apple orchards and pasts lovely estates. It's a well used trail by many; runners, walkers, many furkids and cyclists.
We have had very positive comments from people about her new mode of wheels except one. Yep – there is always those folks.  A single older guy walks by and comments on what a strange stroller and then when he has passed us says "ugly". Huh?! Well, my husband, Ron and I look at each other saying did he really say that?! So hubby calls after him, "She had cancer and only has three legs, she's fighting osteosarcoma"  The guy turns around with an embarrassed smile and we just stare at him. He got it!
If we see him again I'll introduce him to Lylee – we like to educate people to the max you know 😉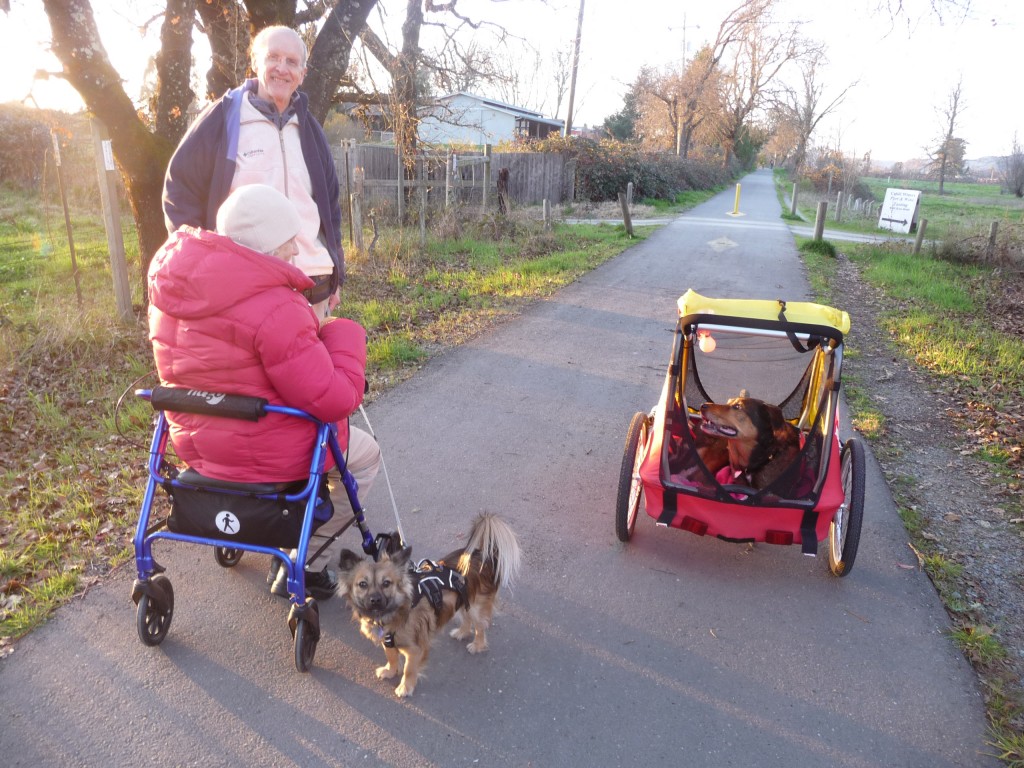 Meeting up with the rest of the gang!
Grammie walks half way down and turns around; because the trail system goes for many miles it intersects roads, so I get dropped off at one end of a trail section and then her Dad & Grammie drive up the other end and walk down to meet us halfway and then we all walk back together. Until we got Lylee's chariot she couldn't do the whole trail section and had to do the halfway walk with Grammie – now she gets to do the whole walk!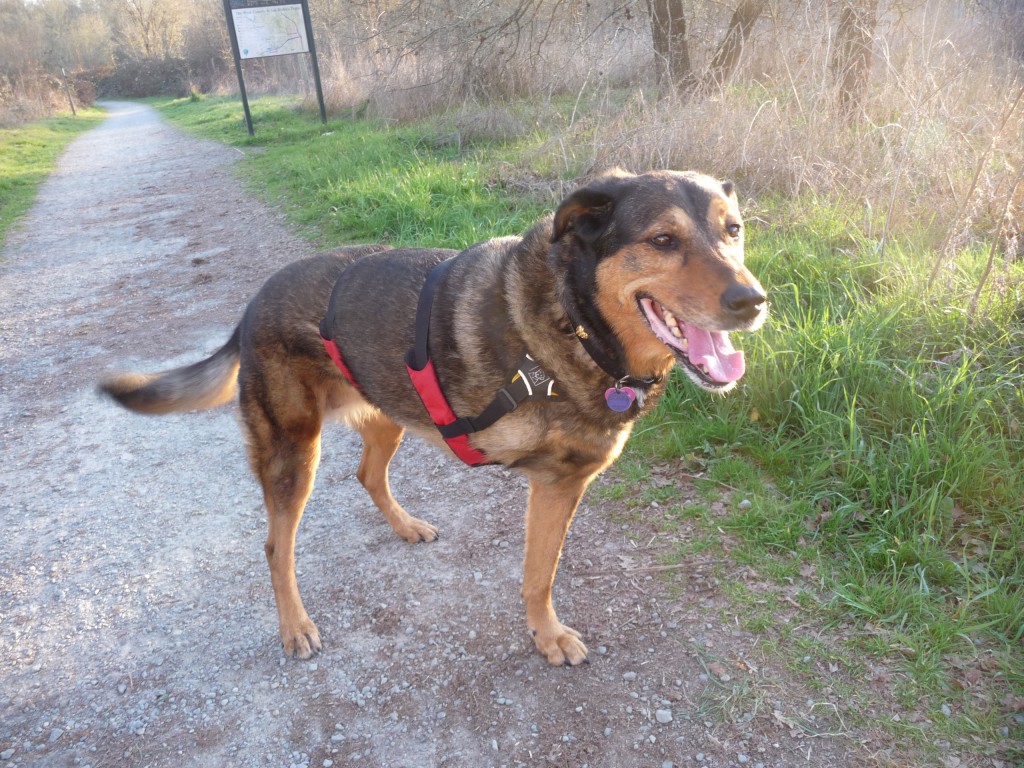 Her Highness stretches her legs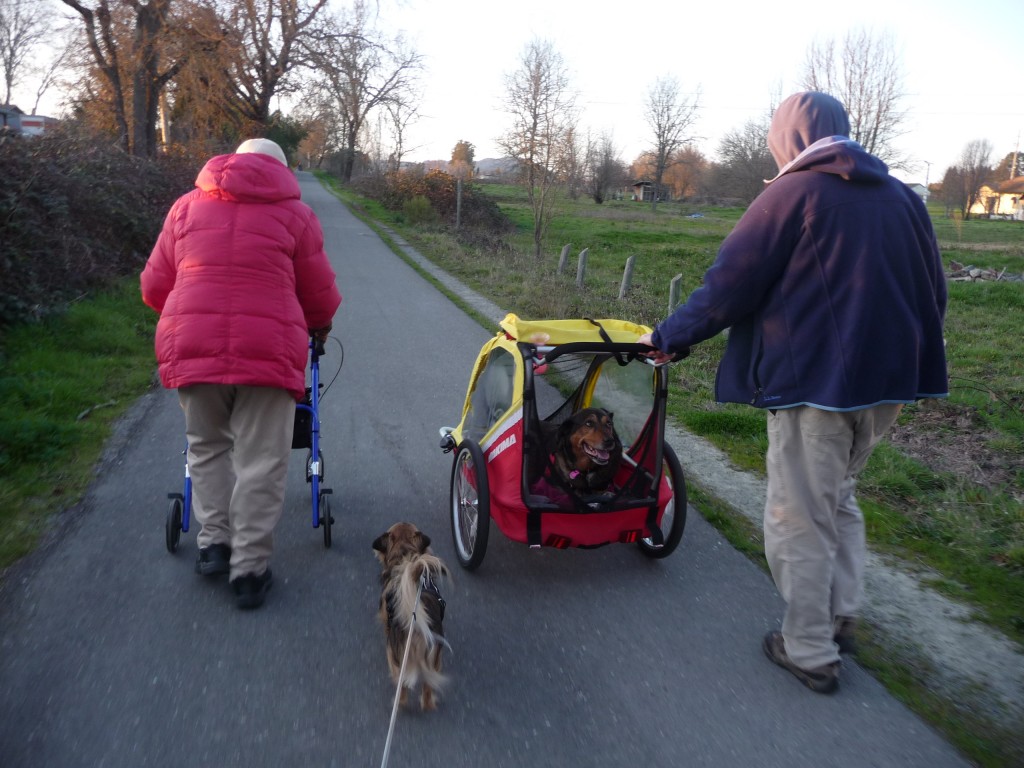 Heading home – I love the look on Lylee's face "That's my Dad pushing me".
Next post – our next beach walk 🙂
Hugs & Royal Wags
Joanne & HRH TWP Lylee