Tripawds is a user-supported community. Thank you for your support!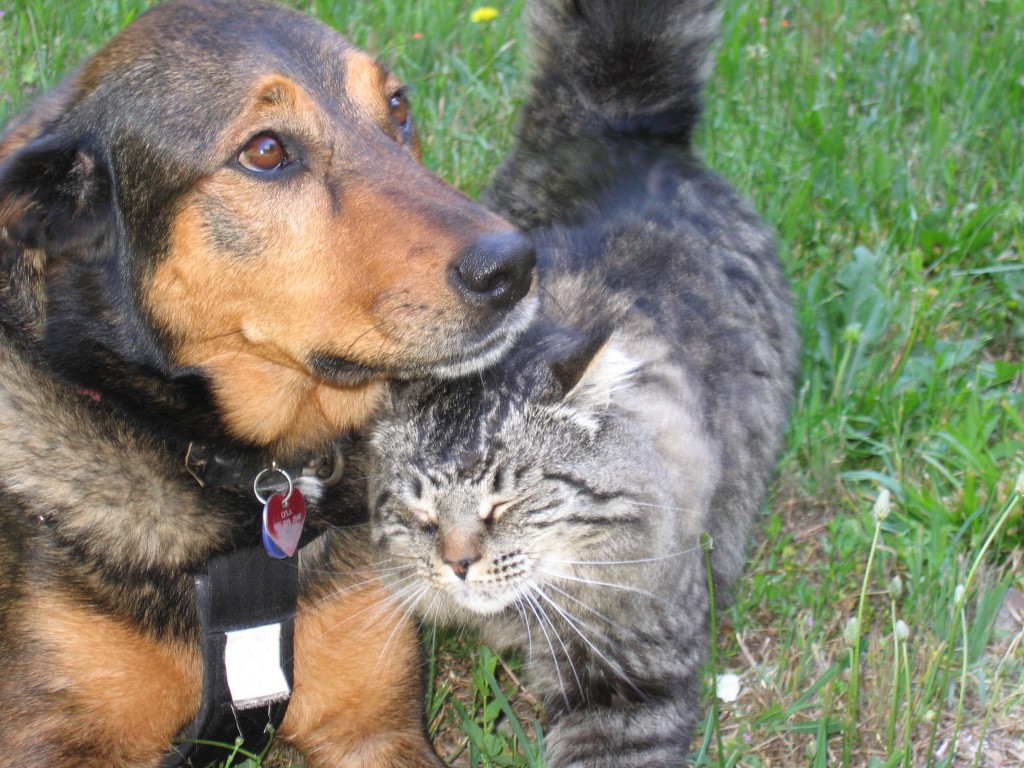 Photo: Lylee and her kitty bro, Wildman.
Well, we did it. Lylee went into surgery today to have her right front leg amputated.
It has been a huge roller-coaster ride in deciding what to do. Yesterday when the vet clinic called to confirm her surgery we let it go to voicemail as we were still undecided and then in the evening I got to a place of yes, we need to do this.
Then I woke up this AM and realized that, no, it is the wrong decision. I want to get more clarity and take all her records up to UC Davis and also to the surgeon who did her fracture repair, Tim Selmeyer @ Veterinary Surgical Associates.
When I told Ron he then came up with a brilliant idea to use a decision matrix which is essentially a very simple but really effective tool when trying to get clarity. We saw this being used in a video on Climate change on You Tube. It is basically a box divided into four, across the top is 'Surgery' and then 'No Surgery' and down the side is 'Cancer' and then 'No Cancer'.
So you have four quarters with four different outcomes. In each of these boxes you write the pros and cons of each equation, being sure to include and focus on what could happen in the worst case scenario in each situation.  For Example: "What is the worst that could happen if we did surgery and there was no cancer?"  "What is the worst that could happen if we didn't do surgery and there was cancer?"  This process resulted in surprising clarity.  Obviously the box of No Surgery and No Cancer is the best , but to achieve that outcome we would have to do extensive testing of her leg which would be expensive, painful and could still not achieve certainty about whether there was cancer or not. And we were unwilling to wait and see and do x rays in a month. If it was cancer then it could spread exponentially during the wait.
It was so great to complete this matrix. Our best scenario or 'box" ended up being 'Surgery and No Cancer'. And if after having surgery she in fact did have cancer then it was still the right choice 'cos we had the leg removed.
Her operation was scheduled for the afternoon. They kindly let us be with her thru her pre-meds and when she was relaxed and sleepy they then took her back.
We knew the op. would take a while but at 8 pm I was getting a little nervous so checked in and was told they were just finishing up. At 9 pm the surgeon called and this is what I posted on the Tripawds forum:
"Just got off the phone with the surgeon, Lylee's amputation went very well. It took four hours, longer than usual because she said there was more atrophy in her muscles and so her veins were harder to work with and so she went slower and more carefully and she also took wider margins of tissue in an area where there was a fluid pocket (could've been from the previous biopsy). And so it also took a bit longer to close her up. Her blood pressure and vitals were all good thru the surgery. I will get to see her tomorrow. It's a relief that she okay.
Thanks again for all the support. I'm not even a tripawd and I've been leaning on you all heavily!
Lylee's pawrents,
Jo & Ron"
Will update tomorrow. Thank you for all the love, prayers and good thoughts!